Introducing Our New Headquarters Building
Learn how our new headquarters building in San Antonio proves that being good stewards of our financial and environmental resources goes hand-in-hand.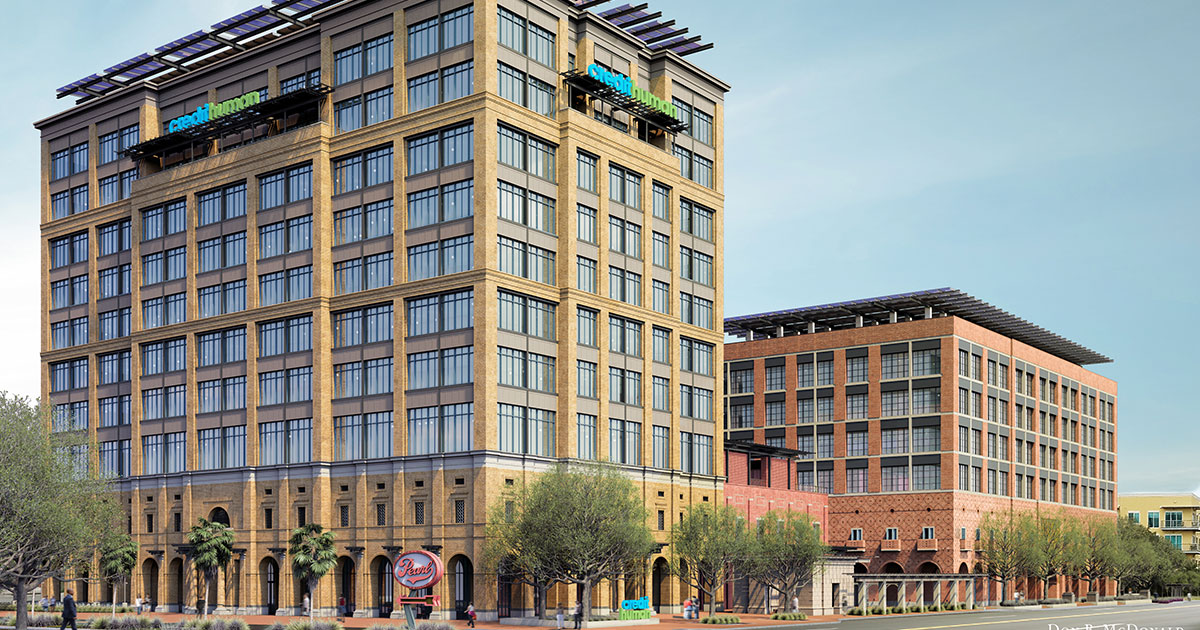 When we outgrew the six-story headquarters building we operated out of for more than 40 years, we built a new 12-story headquarters in the heart of San Antonio designed to save water, reduce energy consumption and lower carbon emissions. These investments in sustainable design and construction will result in a positive return on investment in 13 years or sooner, making this the right design for our members, for the community and for the environment.
The design integrates multiple energy demand and supply-side solutions that make this building 96% more efficient than buildings of a similar size:




We reduced our demand for energy by 56% through better management of our power use inside the building and a well-built, air-tight exterior.




The building also has 150 geothermal wells on the site, utilizing the constant, year-round temperature of the earth as both a heat source in winter and a heat sink in summer.




In 2015, Credit Human made a major commitment to sustainability by outfitting most of our San Antonio locations with solar power in one of the largest commercial solar projects in the city. We continued that commitment to clean energy in the new building by installing 3,000 solar panels totaling one mega-watt of capacity on the roofs and parking structure. This will supply roughly 40% of the annual electricity demand.




Our building uses 97% less potable water (water suitable for drinking) than a typical 200,000 square-foot building. We do this by both capturing water and conserving the water we do use.
In addition to all these investments in environmental sustainability, our new building also includes one of our Financial Health Centers, where we work to help our members improve their financial health and reduce financial stress. Learn more about our Financial Health Centers.

Credit Human is your credit union, and we hope our members in the San Antonio area will come see the new building for yourself. Our team in the Financial Health Center would love to see you. For our members outside San Antonio you can learn more about all the features of the new building by visiting 1703Broadway.com.