How do I set up direct deposit?
What is direct deposit?
Direct deposit is a simple way for payments to be automatically deposited electronically to your checking account. Payments can come from your employer, a pension, Social Security or other regular monthly income. Once signed up for direct deposit, you're automatically enrolled in Early Pay. Early Pay gives you access to your direct deposit funds up to 2 days faster.

How do I set up direct deposit?
To receive payments electronically, simply provide the Credit Human routing number 314088284 and your 14-digit checking account number to the organization that is paying you. They may require that you use a particular form (such as a direct deposit form) or they may ask you to provide a voided check. In some cases, you'll need to provide your account information online.

Do I need a form?
In most cases your employer/organization will provide you with a form or ask that you submit your information electronically. If they require you to provide a form, you can fill out a direct deposit form provide a copy to your employer/organization and a copy to Credit Human by sending it to memberservicecenter@credithuman.com.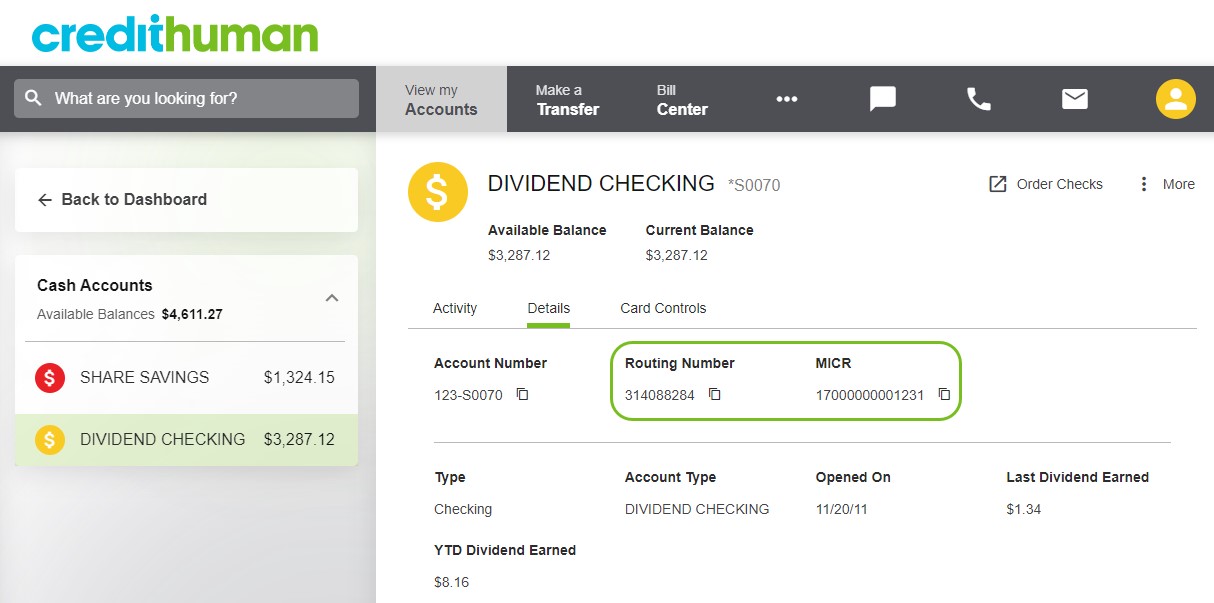 Mobile and Online Banking
Members can view their routing and account number information in mobile and online banking by going to their checking account and clicking on Details.
Routing & MICR Number Routing Number and 14-digit checking MICR number is what you'll provide to your employer/organization so that your funds are deposited into your checking account.
Mobile Banking
Download our mobile banking app to access your accounts, pay bills, track spending, or even deposit checks — all with your mobile device.
Learn More
Online Banking
You can do it all from your laptop, desktop or tablet. Pay bills, use financial health tools, get account history, set-up alerts and more.
Learn More