Fast FAQ
Quick answers and support.
The Credit Human Member Service Center is available to help you Monday-Friday 7 am to 7 pm and Saturday 9 am to 12 pm CT. Just call 210-258-1234 or toll free at 800-688-7228. If you need after hours help, check below for answers to frequently asked questions. To find a Credit Human location or ATM, try our online locator.
Mobile and Online Banking
All you need to get started with mobile and online banking is an active Credit Human account, your last name, social security number, date of birth and account number.
Register today
.
To reset, click "Forgot your username or password?" and follow the prompts.
Yes, it is available for devices with Face ID capabilities. You must have the latest version of the mobile app installed.
All transactions, except for recurring payments, will be denied until you unlock your card.
Visit our
video tutorial page
for instruction on how to use our mobile and online banking platform to make a payment.
Bill Center is a convenient way to pay your bills from one secure place. You decide whom, when, and how often to pay. Schedule one-time or recurring payments from your Credit Human checking or money market account.
Estimated delivery date is within seven business days and will display when you schedule your payment.
Mobile deposit is a fast, easy and secure way to deposit one or multiple checks from your smartphone or tablet with the Credit Human mobile app. Use the camera on your device to snap a picture of the front and back of the check, choose your account and submit.
You qualify for mobile deposit if your account has been open for at least 30 days, has no loan delinquencies greater than 31 days, and has no unpaid loan or share charge-offs. See our
remote deposit capture disclosure and agreement
for complete terms and conditions.
When depositing a check using the Credit Human Mobile app, make sure to sign the back of the check and use the endorsement below: Credit Human Mobile Deposit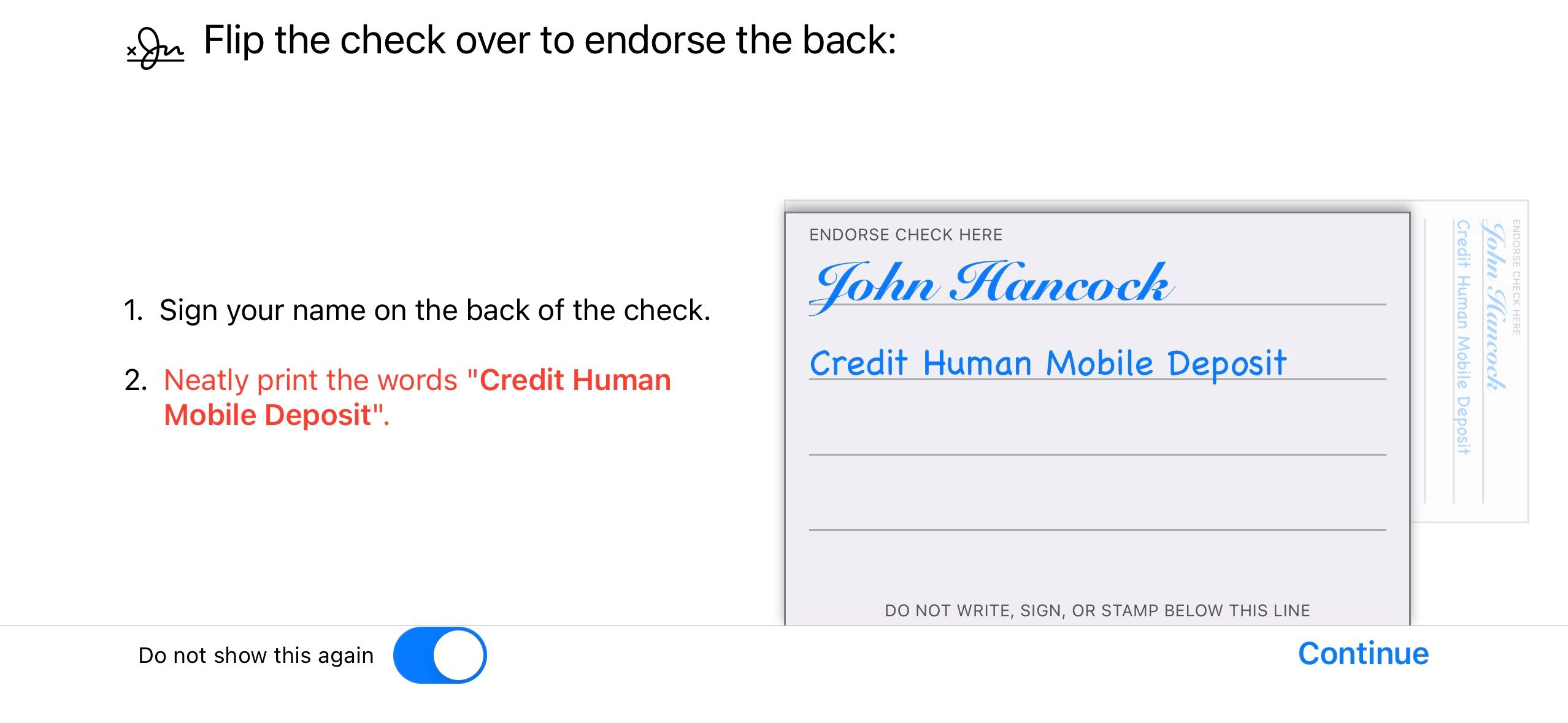 A restrictive endorsement is a type of endorsement on the back of your check that helps ensure your check gets deposited to your account. Your signature and "Credit Human Mobile Deposit" is required on all checks deposited through our mobile app.
No, this endorsement only applies to deposits made through our Credit Human Mobile App. This is not required when you visit a Financial Health Center or make deposits using our ATMs or ITMs.
If you deposit a check without this endorsement, the check will be rejected due to the absence of a restrictive endorsement. You will receive an email notification stating the deposit was rejected due to the absence of a restrictive endorsement.
You can deposit business, personal and government checks that are issued from financial institutions in the United States.
Daily deposit limits range from $3,000 to $25,000 with monthly deposit limits ranging from $25,000 to $50,000.
Funds deposited using the mobile app are available no later than the next business day unless a hold is applied. If you are a new user, your first two deposits will be held for review.