Buying a Car in Today's Market
7 steps to a less stressful car buying experience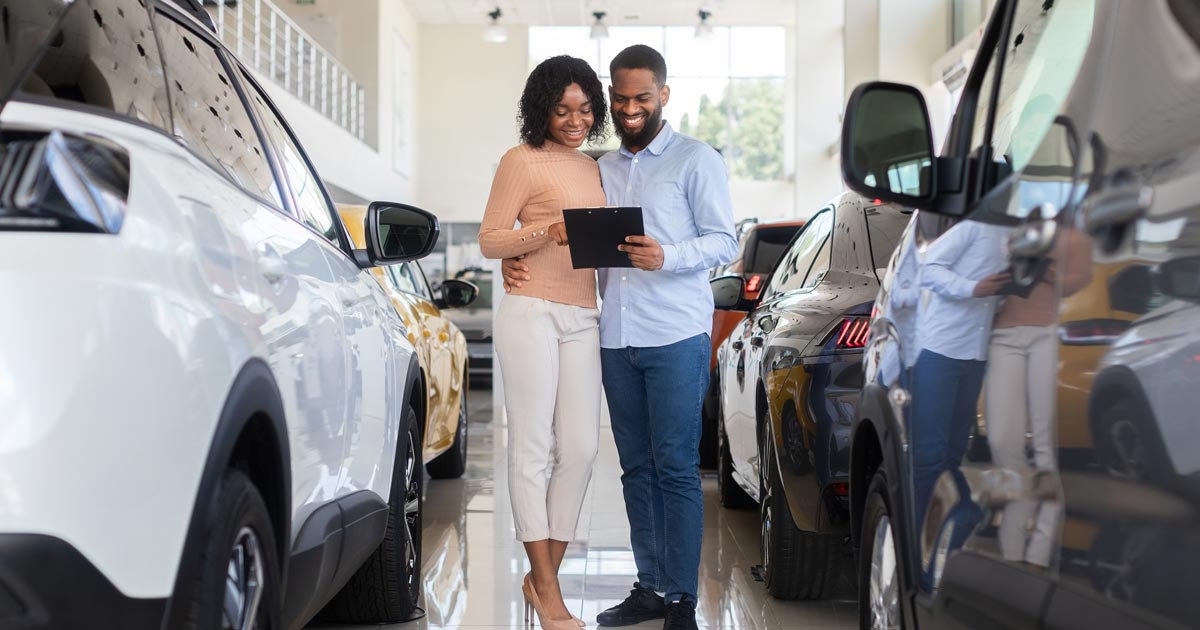 It's an unprecedented time to buy a car. Thanks to resurgent demand and reduced supply caused by the pandemic and chip shortage, Kelley Blue Book estimates the average cost of a new vehicle is up more than 25% in just two years and used vehicles saw an even steeper increase of 42%. These increases outpace the rise in inflation. As stressful as this sounds, some of us may not be able to wait to buy a car, so we're here for you with steps to make your car-buying experience as stress-free as possible.
1. Determine how much car you can afford
We're not just talking about the down payment and monthly payments – you also need to consider insurance, gas and other day-to-day expenses related to maintenance like oil changes. The goal is to make sure that whatever you end up spending, you can still build and maintain financial slack to reach your other financial goals. Some good guidelines to consider:
Purchase price should be no more than half your annual income

With the market for used cars right now, trading in your current car could give you a good amount for a down payment

Keep the monthly payment to 20% or less of your monthly income
2. Know your credit score
Your credit score is a critical piece of the loan-approval process. Knowing where your credit score ranks will help you identify possible opportunities for improvement so you qualify for the best rate possible. Chat with eCoach Lea below to get started.
3. Arrange your financing
There are many auto-buying online calculators out there that can help you start thinking about how much of a loan you can afford based on the price of the car, your down payment, your trade-in, the length of the loan and what your loan rate will be based on your credit score. Once you have an idea of how you want to handle your financing, compare rates and terms to find the greatest flexibility with your monthly payment. You can view Credit Human's rates here as a place to start. Getting pre-approved before you even start shopping is also a smart way to make sure you don't agree to spend more than what is realistic for your finances and keeps you looking in the price range you already determined is best for you.
4. Start looking for your car
Searching online to compare different models and options before you head to a dealership gets you prepared for the variations in price for the type of car you're looking for. If you want to finance your new vehicle with Credit Human, we recommend looking for local inventory through our online auto-buying service. Once you know exactly what you want, head to the dealership to test drive any cars you're interested in and make your final decision.
5. Decide on loan product options
First, understand your warranty details. If you are purchasing a used car request a vehicle history report. Check into average maintenance and repair costs for the model you're considering. Once you have this information you can decide if you need to add a service contract, gap insurance or Major Mechanical Protection. Gap insurance helps you pay off your loan if your car is totaled or stolen and you owe more than the car is worth. This might be a good option if you're spreading your loan out over a longer term. Major Mechanical Protection covers any possible mechanical failures.
6. Negotiate your final price
Make sure any rebates, dealer incentives and factory specials are accounted for in the final price. If you're trading in a car, know how much it's worth before going to the dealership so you can negotiate the best deal. And when negotiating the final price, remember all the research you did leading up to your visit about the value and availability of the car you're buying. If everything lines up with your plans and you're comfortable with the deal, then you're ready to sign the contract.
7. Prepare to drive your car away
Getting a new car is exciting. Make sure you have the salesperson take time to show you all the features of your new car, and confirm you have copies of sales and finance documents, as well as documentation of any repairs or service the dealer is providing after the sale. If the dealer promises any extras to come later like floor mats, make sure you get that in writing as well.
No matter what your dream car looks like or where you are in the buying process, we're here to help you reach your goal of buying a car. Stop by one of our Financial Health Centers or make an appointment with a specialist so we can discuss your unique situation and explore the options best suited to your needs.